Details of the 2023-24 award will be announced in 2023. The information below relates to 2022-23 and is for reference only.

The British Society for Aesthetics invites applications for a postdoctoral award in philosophical aesthetics, to the value of £25,000 with up to £3,000 additional geographical allowance, to start in Autumn term in 2022.
The fellowship is tenable for up to one year at any British philosophy department. Applicants must have been granted their PhD before the start of the award. Preference may be given to applicants who have not already received or been offered a postdoctoral award. Members of groups that are currently underrepresented in philosophy are strongly encouraged to apply
'Anonymized' below means that name and other gender-markers should be removed or blanked out
Candidates should submit a non-anonymized email to admin@british-aesthetics.org, by the 14th June, with the following anonymized attachments:
a) a CV, including details of three referees;
b) degree transcripts, undergraduate and postgraduate;
c) a research proposal in philosophical aesthetics, including specified outputs, and research schedule over the year;
d) an article length writing sample (which might be a chapter); and
e) a covering letter explaining how the research to be undertaken complements research carried out in the host department, and/ or institution.
Candidates should also provide a letter of support from a proposed mentor at the host department, confirming that the department will assign the applicant an office or other space in the department, and will extend library privileges, technology, support, and opportunities to participate fully in departmental life.
· The research proposal should cover work in aesthetics or philosophy of art, broadly construed.
· The award normally may not be deferred.
· The award is paid directly to the recipient to cover their living expenses during the research period.
· If the recipient teaches alongside the award, they should teach no more than three contact hours per week.
· The recipient is advised that, depending on circumstance, there may be personal tax implications to receiving the post-doctoral award, and it is their own responsibility to ascertain these, not the Society's.
· The applicant will be expected to provide a short report on their activities (e.g. publications, talks, any work secured for the following year) for the Society's AGM after the end of the award period.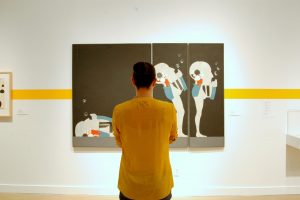 Current awardee:
We are delighted to announce that Vanessa Brassey was awarded the fourth British Society of Aesthetics Postdoctoral Fellowship, 2022-2023, for her project, 'Time for Beauty'. Vanessa will be mentored by Sacha Golob at King's College London. Congratulations to Vanessa!
Previous awardees:
Claire Anscomb was awarded the third British Society of Aesthetics Postdoctoral Fellowship, 2021-2022, for her project, 'Creating Images with AI'. Claire is being mentored by Vid Simoniti at the University of Liverpool.
Kris Goffin was awarded the second British Society of Aesthetics Postdoctoral Fellowship, 2020-2021, for his project 'The Rationality of Emotion & Fiction'. Kris was mentored by Stacie Friend at Birkbeck, University of London.
Kathrine Cuccuru was awarded the inaugural British Society of Aesthetics Postdoctoral Fellowship, 2019-2020, for her project 'The Problem with the History of Aesthetics, Before Aesthetics'. Kathrine was mentored by Michael Morris at the University of Sussex.