Conference Report, University of York, 10th-11th January 2018.
Supported by the British Society of Aesthetics, the White Rose College of Arts and Humanities and the University of York Philosophy Department, the conference hosted 66 delegates from England, Scotland, Australia, the USA, Guyana, Romania, Sweden, Spain, the Czech Republic, Israel, Croatia, Belgium, the Netherlands, and Germany. There were ten plenary talks and twenty parallel session presentations by philosophers, film studies scholars, film critics, art historians, and film-makers all intent on exploring a wide range of non-, a, and anti-theoretical ways of engaging in the philosophy of film under the 'without theory' rubric.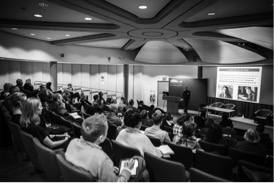 The conference co-directors Craig Fox (California University of Pennsylvania) and Britt Harrison (University of York) welcomed delegates at the start of the first day before handing over to Andrew Klevan (Oxford) for the opening plenary talk. Andrew put his own methodological marker down with an argument for the value of 'Ordinary Language Film Studies'. In the second plenary, entitled 'We do not have to have a theoretical interest in morality: Murdoch's Metaphysics as a Guide to Movies', Lucy Bolton (Queen Mary) brought Iris Murdoch into fascinating contact with the disturbing 2012 film Compliance. Mik Burley (Leeds) then took a close look at Dead Man Walking in his paper 'Disclosing Religious and Ethical Possibilities through film. Sophie Grace Chappell (Open), confessed her unabashedly populist taste in movies, to much delight, as an entrée into her talk 'Going to the pictures with Roger Scruton: imaginative identification in literature – and film'.
The first day's twelve parallel talks took delegates on a cinematic journey from Micky Mouse to Werner Herzog, Wittgenstein to Ben Hur, Rilke to Wings of Desire, and A Few Good Men to the Dardennes Brothers, before the day rounded off with enjoyable discussions, and food, at York's popular tapas restaurant, Ambiente.
The second day began with two short plenaries from conference co-directors Craig Fox and Britt Harrison: Craig investigated 'Paying Attention to Love in Berman's Scenes from a Marriage' before Britt tried out some ideas about 'Dramatic argument in The Godfather: the value of contradiction'. Screenwriter, priest and medieval philosopher Colin Heber Percy roamed unfettered across two centuries of philosophical and theological ground in 'The flesh is weak: Empathy and becoming human in Jonathan Glazer's Under the Skin' and Rob Van Gerwen (Utrecht) drew on Robert Bresson's fascinating notions about acting, as part of his own 'The character as a spectator in the picture'. In the penultimate plenary, Victor Dura-Vila offered some challenging insights into Antononi's classic L'avventura, the relation between moral and aesthetic value, and the relation between research and teaching. Throughout the day 8 additional parallel sessions explored invited delegates to 'abandon theory and embrace race', 'not take Thomas Kuhn to the movies', consider 'film history as a challenge to analytic aesthetics' and understand aspects of pornography in terms of the 'aesthetics of embodiment'. The conference was brought to close by David Macarthur (Sydney) in a thoroughly apposite talk, 'Film and Skepticism: Cavell on our relation to others on film.'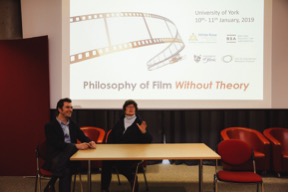 Whilst those attending the conference did not arrive at a consensus about what the philosophy of film without theory might be, the subject's value, resources and potential as a family of open-ended methodologies was undisputed. In the wake of the conference, Craig Fox and Britt Harrison are guest-editing (with Editor-in-Chief, Rob van Gerwen) a special issue of the online journal Aesthetics Investigations on the conference topic: philosophy of film without theory. The Conference website has been repurposed to keep delegates and the growing number of interested parties abreast of ongoing and future developments in this exciting new area of philosophy of (in and through) film. It is hoped that there will be a second Philosophy of Film Without Theory Conference in 2021, this time in the United States.
A philosophical rewarding and downright fun – in the words of many of the delegates – time was had by all, not least thanks to the excellent location and facilities of the Humanities Research Centre at the University of York.