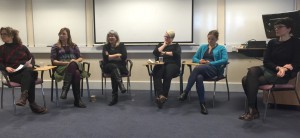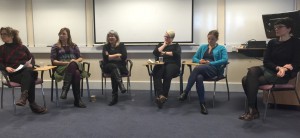 Cinema and Embodiment: The Aesthetics of Pornography
2-3 March 2016, University of Kent
Speakers
Pandora Blake
Petra van Brabandt
Clarissa Smith
Eliza Steinbock
Ingrid Ryberg
Organising Committee
Eleen Deprez
Hans Maes
Sara Janssen
This two-day event focused on the relationship between cinema, embodiment, and pornography. Our invited speakers originated from diverse disciplines: philosophy of art, film and media studies, and cultural studies. Two of our speakers are also involved in making feminist alternative pornography themselves. This allowed for an interdisciplinary discussion in which the theme was approached from a variety of academic perspectives whilst at the same time staying in close connection with the practice and experience of pornography. The film screening and symposium were part of a cross-disciplinary project "Confined Projections" which also included an exhibition of 6 purpose built mutoscopes (a hand-cranked pre-cinema device). Confined Projections was part of the international Festival of Projections, an art festival at the University of Kent. 28 People attended the film screening, 43 delegates participated at the symposium, and a further 350 people visited the exhibition.
The film screening at the Lupino Cinema ushered in the project on Wednesday March 2. At this event a selection of short feminist, lesbian, queer, and trans pornographic films was shown. The shorts were selected and introduced by filmmaker and theorist Ingrid Ryberg, curator and scholar Eliza Steinbock, feminist pornographer Pandora Blake, and organizer Sara Janssen. The screening was concluded with a panel discussion and Q&A.
On Thursday March 3 we launched into the symposium with a paper by Clarissa Smith, Professor of Sexual Cultures in the Centre for Research in Media & Cultural Studies at the University of Sunderland. In her paper More Than Just Flesh: The Porn Performer's Body in Action she argued against a monolithic understanding of mainstream pornography and addressed the aesthetics of the actor's performance. Ingrid Ryberg, filmmaker and postdoctoral researcher at the Department of Media Studies of Stockholm University, presented on the work of Marit Ôstberg in her paper Feeling Wasteland: Utopianism and Backwardness in Queer Porn. She looked at how the spectator in Ôstberg 's film When we are together we can be everywhere is drawn into a proximate embodied experience rather than a distant voyeuristic gaze. Philosopher Petra van Brabandt, Lecturer at the St Lucas School of Arts in Antwerp, developed an account on the aesthetic quality of fluids in pornographic art in the paper Wet Aesthetics and Queer Pornography. In Look! But also, Touch! Theorizing Images of Trans Eroticism Beyond a Politics of Visual Essentialism, Eliza Steinbock, Assistant Professor and postdoctoral researcher at the Film and Literary Department of Leiden University, looked at the representation of transgender people in pornographic film. For the concluding panel discussion Pandora Blake, feminist pornographer, joined our four speakers for a lively debate in which the ethics and politics of pornography were discussed.
In accordance with the BPA/SWIP guidelines, as well as fitting the overall theme of the symposium, we ensured that female speakers were well represented and we made sure that all of our speakers were advertised with their full and correct title. To accommodate the childcare needs of one of our speaker we changed the date of our event. During the Q&A session we adopted the recommended seminar chairing policy as published on the BPA/SWIP website.
This was an interesting and thought-provoking conference, and we wish to thank the British Society of Aesthetics for their generous support in making this two-day event possible.
Eleen Deprez
Hans Maes
Sara Janssen