BRITISH SOCIETY OF AESTHETICS ANNUAL CONFERENCE
St Anne's College, Oxford
ACCESSIBILITY GUIDELINES
We aim to make this conference as accessible as possible, in line with [this] guidance for accessible conferences. To that end:
1. Although there will not be a short break between each session and the Q&A, delegates may step out if they need to.
2. We will permit questions during Q&A to be written down rather than spoken out loud.
3. We cannot provide sign-language interpretation.
4. A hearing loop is available in the main lecture theatre (Tsuzuki) and we try to schedule what we anticipate will be the best-attended sessions in that room.
5. Service animals have access all areas.
6. The venue is wheelchair accessible.
7. The venue has nearby disabled toilets.
8. The venue has a nearby quiet room.
9. The venue has available seating (seats at the front can be reserved on request).
10. No travel between venues is required as the meeting rooms and accommodation are all in close proximity.
11. There is nearby disabled parking.
12. We aim to accommodate all dietary requirements. Please state such needs when you register.
Do please contact us at admin@british-aesthetics.org if you have further questions not resolved above.
ARRIVING AT THE COLLEGE
The main front entrance (from Woodstock Road) to the College is level. Delegates will report to the Porter's Lodge, at the main entrance, to sign in. One entrance to the Lodge is level whilst the second entrance has a ramp.
The Lodge is housed within the Ruth Deech Building, which has ramp access and a lift to reach the lower ground floor. The lift can take mobility scooters / wheelchairs.
Doors to enter the Ruth Deech Building open automatically.
Conference signs will be posted to direct you through the college.
There is free access to all areas for guide dogs.
REGISTRATION
The conference registration desk will be located outside the Tsuzuki Lecture Theatre on the lower ground floor of the Ruth Deech building.
MEETING ROOMS
All our sessions take place in either the Tsuzuki Lecture Theatre or Seminar Room 7. Both these rooms are off the foyer on the lower ground floor of the Ruth Deech building.
The Tsuzuki Lecture Theatre is tiered, with wheelchair spaces by the entrance. There is also wheelchair access for any speakers onto the stage via a ramp. Speakers are encouraged to use the microphone and table situated on the platform/stage.
Seminar Room 7 is flat-floored with easy access for wheelchair users.
Doors to Tsuzuki and SR 7 are not automatic; however, door stops can be used.
A hearing loop is available in the Tsuzuki Lecture Theatre but not in seminar room 7.
Seats can be reserved at the front upon request.
The closest wheelchair accessible toilets are located in the foyer, approximately four metres from the meeting rooms.
The Conference Office is a quiet room, with seating, available nearby. This is at the opposite end of the foyer from the meeting rooms.
FOOD & REFRESHMENTS
Food and refreshments will be served in either the Dining Hall or the Ruth Deech foyer. The Dining Hall has a slight ramp to access. The Dining Hall has accessible toilets which are located approximately ten metres from the serving/seating area.
If you have a food allergy, please let us know when booking as the College requires details in advance of arrival.
ACCOMMODATION
All our delegate accommodation is on campus. There are rooms specifically designed for disabled access. We ask delegates to advise us of their accommodation requirements upon booking, so that suitable accommodation can be reserved.
PARKING
Parking at the College is strictly disabled access only, booked in advance. We ask delegates to advise us of their requirements upon booking, so that spaces can be arranged according to individual needs.
COLLEGE BAR
The main entrance to the college bar is not wheelchair accessible and has a flight of stairs but arrangements can be made with the Lodge to escort delegates via an accessible route. Please let us know in advance so that we can make this arrangement at your convenience.
BREASTFEEDING ROOM AND BABYCHANGING FACILITIES
A bedroom close to the meeting space has been reserved for this purpose. Please could you let us know at the point of booking if you will require these facilities.
CHILDREN
Unfortunately St Anne's is not able to accommodate children under 16 as there are no recreational areas or childcare facilities. There is no family accommodation. St Anne's has provided a list of local hotels, including family-friendly accommodation, below.
ANY OTHER REQUIREMENTS
Please do not hesitate to contact us with any requirements and we will do our best to meet your needs. We welcome suggestions that will help us improve future versions of this access information.
SITE MAP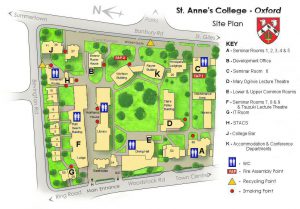 LOCAL HOTELS / B&B / GUEST HOUSES
The Macdonald Randolph Hotel (5 star)
Beaumont Street (City Centre)
01865 256400
www.macdonald-hotels.co.uk/randolph
Cotswold Lodge Hotel (4 star)
66a Banbury Road
01865 512121
www.cotswoldlodgehotel.com
The Parklands Hotel (4 star)
100 Banbury Road
01865 554374
www.parklandsoxford.co.uk
The Old Parsonage Hotel
1 Banbury Road
01865 310210
www.oldparsonage-hotel.co.uk
Galaxie Hotel (4 diamond B&B)
180 Banbury Road
01865 515688
www.galaxie.co.uk
Remont (4 star)
367 Banbury Road
01865 311020
www.remont-oxford.co.uk
Linton Lodge (3 star)
Linton Road
01865 553461
www.lintonlodge.com
The Royal Oxford Hotel (3 star)
Park End Street (City Centre)
01865 248432
www.royaloxfordhotel.co.uk
Victoria House Hotel (B&B)
29 George Street
01865 727400
www.victoriahouse-hotel.co.uk
The Walton's Guest House
169 Walton Street (City Centre)
01865 552137
YHA
2a Botley Road
0870 770 5970
www.yha.org.uk